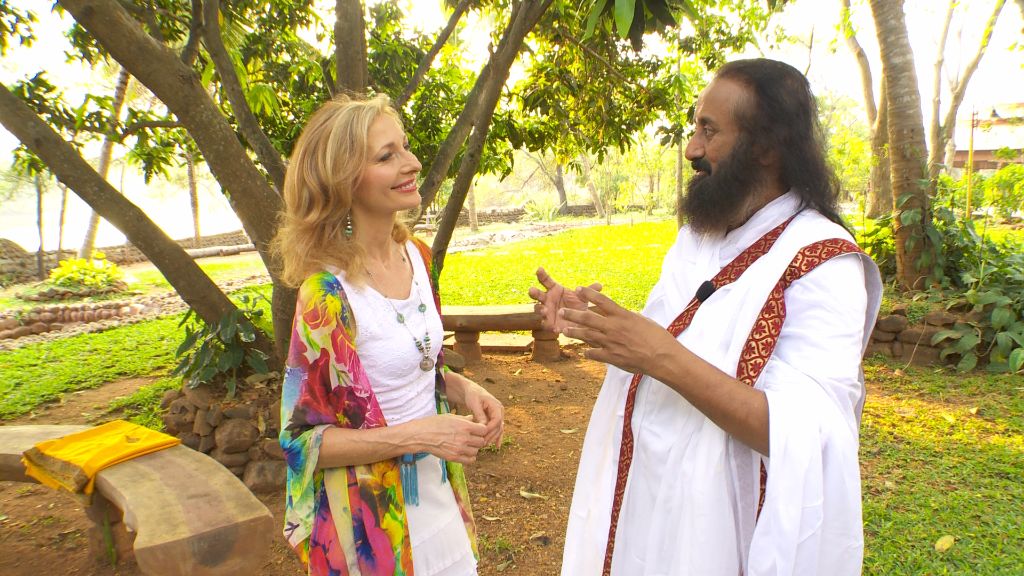 "No Taj Mahal?!" My crew sighed as we flew past the Taj Mahal on a flight down to Bangalore to meet Sri Sri in his Ashram. We were originally scheduled to shoot at the Taj Mahal, however, the synchronicity of how my interview with Sri Sri happened, compelled me to take us on a 9 hour journey to meet Sri Sri.
Before I left for India, my daughter said," Mom, you should interview Sri Sri. He has a festival where 4 million people are coming together for peace while you are there."
The sheer thought of 4 million people coming together because of something a living person is doing, sounded far better, at least to me, than another story about this grand-mausoleum built for an Emperor's favorite wife.
The Ashram was like a small city and quite lush and beautiful as 20,000 people from all over the world may be there on a given day.
Our given day was hot and humid but Sri Sri looked quite cool as he surfaced from his car surrounded by his entourage all managing their cameras and cellphones as they gathered around.
Then when our eyes met and he reached out his hand to me, there was complete focus. He made me feel like it was just us and our conversation with no one around. I imagined he was like that with everyone he met and that, to me, is one of the attributes of a great leader.
I referred to the band, the Rolling Stones, who muster about 100,000 people in an arena and although he went a little blank on who are the Rolling Stones, he clarified that there were 3.75 million gathered at The World Culture Festival arena.
On a spiritual level, I felt there truly was a turning point for him on his path to the present and he explains in our interview. I feel certain he did receive a download of information from a source, of which he spoke, that allowed him to fashion a breathing technique he calls Sudarshan Kriya. Well, it has certainly proven its effect.
As humans, we need tools to connect to spirit, to each other, to our deep memory that holds the realization that we are one consciousness.
When we actually come to feel that one consciousness, everything changes. The world is completely altered, forever. It is a great thing and a challenge because it demands a total recalibration of our thoughts, ideas and realizations. And, although there are many tools available to us for this, his breathing technique has been powerful in healing and helping hundreds of millions.
I also felt as easy going as was his demeanor, he was really smart and strategic and as there are no easy roads to peace, he had better be smart and strategic as light attracts dark.
I was most impressed that he fears nothing. He is secure that he is a beacon for a message he delivers so well without trying to control the message.