"Our family consists of: Two typical sons, Mike and Matt and two special needs, Jerry and Melody Joy.
Each time I expressed my concern about the slow development of our first child, Jerry to our rural, family doctor,  he'd lean back in his chair, his only comment would be "OH well,  he'll probably be short for his age," or "he'll never be the President."  Coming  home from the doctor I remember hearing myself  mumble, "I can live with that."  I settled with this for three years then reluctantly we made an appointment and found ourselves  making many trips to Hershey Medical Center and spending many long hours with neurologists and geneticists.  We were trying to pronounce the term, Betaglucuronidase, which was Jerry's diagnosis.  There are millions of enzymes in our body. For Jerry there was one missing, the missing enzyme he needed to assimilate protein.  His life expectancy was only 9 years.  WHY?  The eternal question which we would be screaming many times but for now lay dormant on our lips.   We accepted and loved Jerry, but how could we accept his death sentence?  The doctor tried to console us by saying, "the place where you live, on the farm is the best place for your son."   He was right. He also told us this condition is very rare and probably would never happen in another pregnancy.
I am so happy Mel and I stood together and, with God's strength, made a choice which would mold us for the rest of our lives. We love all four of our children with the same love. When you ask us how we made it through we must say even as difficult as this experience was, the amazing miracle is that with all the sadness and disappointment there was an extreme amount of joy and happiness in our home
We were drawn closer as a couple because we shared our intimate feelings with one another. Often when one of us had a discouraging day the other lifted the burden with encouragement. When our family was young, it was so good to meet with other families with children with disabilities. An older mother sat by my side and said "You think you'll never be happy again, but you will".
Now it is our turn to comfort others by the same comfort we have been comforted.It blesses our heart now that our son and his wife, Mike and Lynette along with their four children choose to attend the Joni and Friends camp each year as short term missionaries, and watch them relate one on one with the campers and their families."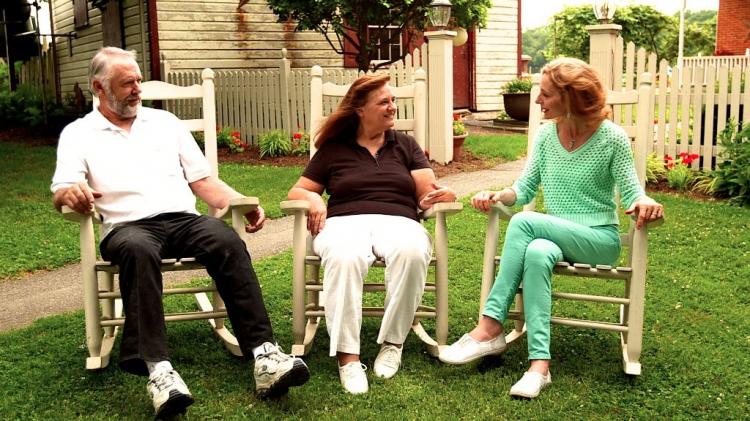 Mel And Joyce Eby of Eby Farms Bed & Breakfast